Spring is a fabulous time to get outdoors to hear and see migrating, courting and nesting birds!
Nuptial Flight of the Woodcock
Sunday, April 1, 6:45 PM 
Monday, April 2, 6:45 PM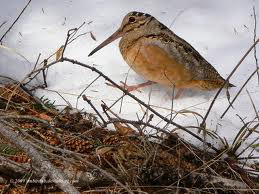 With the arrival of spring comes the chance to observe the annual ritual of seeing the male woodcocks during their twilight courtship displays. At dusk these reclusive woodland birds make their way out of the nearby woods to strut, call, and launch themselves into the air in a wide, spiraling flight from which they whirr and twitter and then zig zag back to the ground where they began. With luck, the male will win a female's heart and attention!
Meet at 6:45 PM in the Shining Sea Bikeway parking lot on Locust Street. The group will gather, cross Woods Hole Road together, then stroll a short way down the bike path to the viewing area. Please bring a flashlight and binoculars if you have them, although the nearly full  moon (!) will heighten visibility. Make sure to dress very warmly as these early spring evenings can be very chilly! Drizzle or driving rain or snow will cancel the walks. All walks are free and open to the public. Beginning birders are especially welcome to join the walks.
Leader: Molly Cornell  508.540.7652
Migration Mondays
Start your day and week off with us on this series of Monday morning walks. It's an exciting time of year when many of our nesting birds are returning as well as a large variety of species passing through on their way north…warblers, vireos, thrushes, sparrows and more! All levels of birders are welcome as we explore the trails for sights and sounds of our beautiful migrants. See below for dates and locations. All walks are 7:00 AM to approximately 9:00 AM.
Leader: Mike Tucker  401.481.7004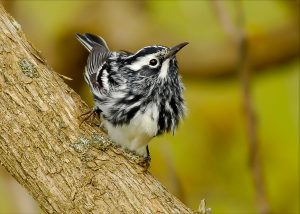 April 30th   Breivogel Ponds. Meet at the parking area on the east side of Blacksmith Shop Road, about 1 mile north of Falmouth High School
May 7th   Peterson Farm. Meet at the parking area at the end of the drive. (Directions:  enter off the Woods Hole Road at McCallum Drive (0.8 miles west of the Locust Street bike path crossing).  Take the steep driveway immediately to your right and park by the shed.)
May 14th   Peterson Farm see Directions for May 7th
May 21st  Dupee and Toner Parcels, Coonamessett River Upper Bogs. Meet at the large, unpaved parking area on the east side of Hatchville Road, opposite from the entrance to the Matt Souza Conservation Area off Hatchville Road.
June 4th   Crane Wildlife Management Area (North). Turn onto the unpaved roadway between Hamilton Tree and the ballpark off  the north side of Route 151. Follow to the large parking area.