Please join us for a variety of walks at conservation lands all over town!

Bundle up and join us for a winter birding outing!
Winter Waterfowl Safari
Saturday, January 20, 2018, 10 AM to noon
T3C birding enthusiast Molly Cornell will lead this annual adventure to see the wintering ducks, mergansers, geese and swans that are feeding and resting, in the saltwater inlets that lace the shore of Vineyard Sound. Participants will also look out into the Sound for loons, grebes, rafts of sea ducks and any other birds that are out there.
Meet in the parking lot by the entrance to Falmouth Harbor on the Falmouth Yacht Club side (east side). The group will carpool from there to several birding hot spots, depending on where the water is open. No experience is necessary; beginning birders are always welcome!
Be sure to dress for the weather, as it can be very brisk! Bring water and a snack, a windbreaker, and binoculars and/or telescope if you have them.
Directions: At the intersection of Main Street and Davis Straits in Falmouth (at Friendly's Restaurant) take Falmouth Heights Road (which becomes Grand Avenue) south to the water. Turn right, go past the yacht club and park alongside the harbor, across from the Tides Motel.
Questions? Please phone Molly Cornell, 508-540-7652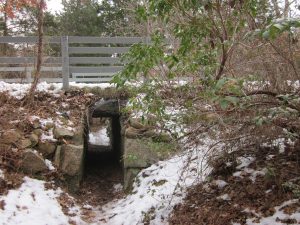 Birds, Mammals & Plants in Winter:  A Walk at Bourne Farm & Wing Pond
Saturday, January 27, 10 AM to noon
These lovely areas, with open field, gently sloping paths, cranberry bogs, oak and pine woodland, and a large kettle hole pond  (plus an historic cattle tunnel!) has much to offer on a winter walk. Bourne Farm is owned and managed by Salt Pond Areas Bird Sanctuaries, Inc. and dates back to 1775. The open farmland and adjacent woodland comprise 49 acres and link to the Town-owned Wing Pond Woods. Both protected areas are also accessible from the Shining Sea Bikeway.
Meet at Bourne Farm parking area, off West Falmouth Highway (Rte 28A), directly opposite junction with Thomas Landers Road.
Leaders: Molly Cornell 508.540.7652, Marcy Klattenberg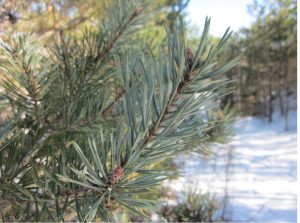 Nature in Winter at Breivogel Ponds
Saturday, February 17, 10 AM to noon
The 67-acre Breivogel Ponds Conservation Area features a variety of habitats–woodland, grassland, fresh water ponds and new vernal pools. In spring 2016, T3C and the Town of Falmouth Conservation Department worked together to begin restoration of nearly 20 acres of an old sand and gravel mine here. The wide open central area leads to a lovely woods filled with tall pines and winding trails at the back of the property. Come discover this fascinating conservation land and all it has to offer.
Meet: at the Breivogel parking area on the east side of Blacksmith Shop Road, 1 mile north of Falmouth High School (555 Blacksmith Shop Road). Wear warm clothes and sturdy walking shoes. Rain will cancel.
Leader: Marcy Klattenberg 860.395.9430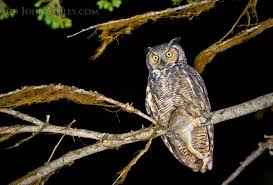 Owl Prowl
Thursday, February 22, 5:30 PM
Location: TBA
Join us on an evening stroll as we learn about these fascinating birds of prey. We'll discuss interesting facts about owls and debunk some myths as well. This is the perfect time to explore the woods in search of these amazing hunters of the night!
Please bring a flashlight and appropriate shoes and clothing for the weather. Ages: 7+
Leader: Mike Tucker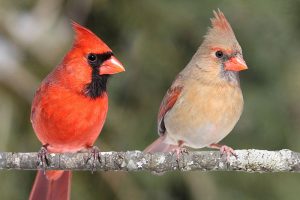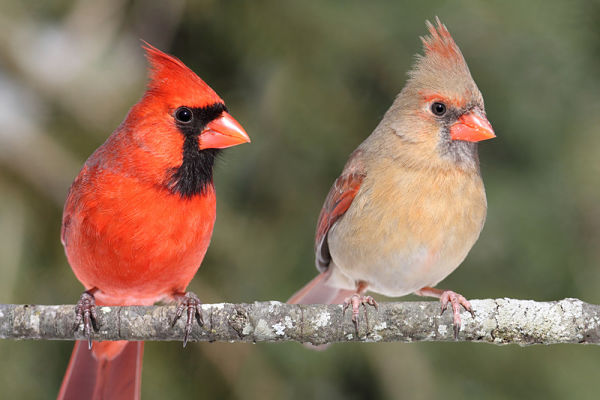 Feeding & Attracting Birds (Indoor Talk)
Saturday, March 3 , 10 to 11:30 AM
at the Cultural Center, Falmouth Museums on the Green
This program, led by former RI Audubon bird specialist Mike Tucker, will present some of the finer details of bird feeding and what you can do to see songbirds, migrants and backyard beauties year-round. We will go over the various components of a successful bird feeding station–discussing various feeders, placement, seed, design and other important features that maximize the diversity you see. We will also examine a number of species and how to ID them successfully. Not all birds go to feeders! So to attract the biggest variety, the design of your landscape and plant selection, shelter, water and nest sites are all important considerations. Come with your bird questions!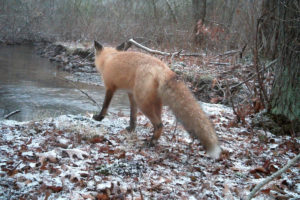 Salt Pond Trails Exploration – Salt Pond Bird Sanctuary
Sunday, March 18, 1 to 3 PM
The 35-acre preserve owned and managed by Salt Pond Areas Bird Sanctuaries, Inc. lies between Salt Pond and the Shining Sea Bikeway, south of Locust Street/Woods Hole Road. Popular with birders, the sanctuary has several well-maintained trails through the low woods and along the edge of the pond. Lovely views, easy walking (but sometimes wet, so please wear appropriate footwear!) The paths can be accessed from several places, including the bike path.
Meet at Pearce Place (in the Salt Pond Place development) just off Mill Road, with parking directly across from 5 Pearce Place.
Leader: Cathy Kligler 508.269.7861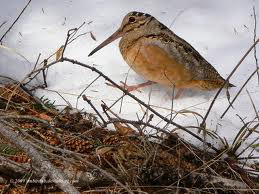 Nuptial Flight of the Woodcock
Sunday, April 1, 6:45 PM 
Monday, April 2, 6:45 PM 
With the arrival of spring comes the chance to observe the annual ritual of seeing the male woodcocks during their twilight courtship displays. At dusk these reclusive woodland birds make their way out of the nearby woods to strut, call, and launch themselves into the air in a wide, spiraling flight from which they whirr and twitter and then zig zag back to the ground where they began. With luck, the male will win a female's heart and attention!
Meet at 6:45 PM in the Shining Sea Bikeway parking lot on Locust Street. The group will gather, cross Woods Hole Road together, then stroll a short way down the bike path to the viewing area. Please bring a flashlight and binoculars if you have them, although the nearly full  moon (!) will heighten visibility. Make sure to dress very warmly as these early spring evenings can be very chilly! Drizzle or driving rain or snow will cancel the walks. All walks are free and open to the public. Beginning birders are especially welcome to join the walks.
Leader: Molly Cornell 508.540.7652