Please join us for a variety of walks at conservation lands all over town!
Post-Thanksgiving Stuffing Stroll
Saturday, November 25, 10 AM to noon
Come for a walk in Beebe Woods and burn off some of those extra calories while enjoying the beauty of Falmouth's public land. The walk will be led by Outreach Volunteer Cathy Kligler. Strollers of all ages are invited and should expect a moderate pace, with some hills and some uneven footing as the group makes its way to the Punch Bowl and back.
As with all walks in Falmouth, strollers should wear appropriate clothing and footwear, be on the lookout for poison ivy, carry drinking water with them and check themselves thoroughly for ticks after the walk.
Parking at the main entrance to Beebe Woods, next to the Cape Cod Conservatory: up Depot Ave., across the bike path and up the hill past Highfield Hall.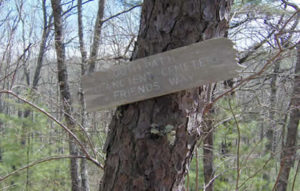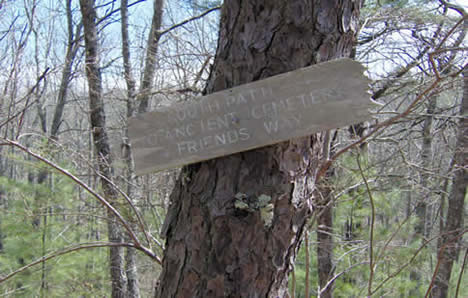 Walk at Mock Moraine Trails, West Falmouth (west of 28, east of 28A)
Sunday, November 26, 10 AM to noon
The area name comes from the family of the previous owners and from the fact that the land runs along the western edge of Falmouth's glacial moraine. Evidence of glacial activity can be seen in the hilly terrain, boulders and kettle holes of the 20.4-acre Mock Moraine conservation land between West Falmouth Highway (Route 28A) and Route 28. Visitors will also see Cape Cod's oldest Quaker cemetery and a granite post marking the location of Falmouth's first Quaker meetinghouse. An ancient way, a path used by the Quakers who traveled from Sandwich as they settled in Falmouth in the 1600s, runs through the property to the nearby burial ground.
Park at the playground & tennis courts at Swift Park on Blacksmith Shop Road, up the hill from Route 28A.
Walk leaders: Alex Lancaster (508-540-4619) and Marcy Klattenberg
Walk at River Bend & Bartolomei Conservation Areas, off Sandwich Road
Tuesday, November 28, 10 AM to noon
River Bend Conservation Area long ago was a dairy farm; later it housed a family-owned dog kennel business. This jewel of a site, and the Bartolomei parcel across the street, are vital links in the Coonamesset River corridor and a testimony to the families who cared deeply for land preservation.
Park at River Bend Farm, 682 Sandwich Road in East Falmouth.
Walk leader:  Molly Cornell, 508-274-8843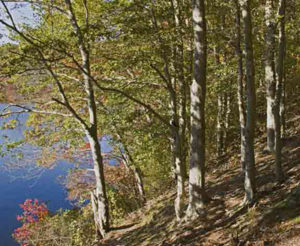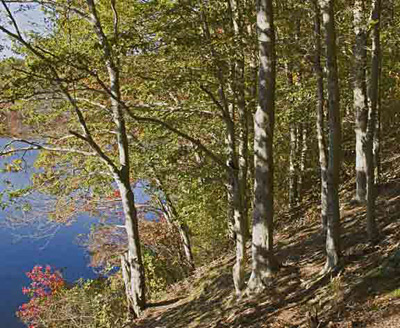 Walk at Mares Pond & Spectacle Pond Reservation, East Falmouth
Sunday, December 10, 10 AM to noon
Between 1986 and 2002, the town of Falmouth acquired 13 parcels of undeveloped land in the Three Ponds area of Hatchville to protect the Mares Pond municipal well. Combined, they form the 152-acre Mares Pond Reservation, with frontage on Deer Pond, Mares Pond and Spectacle Pond. By protecting the drinking water source, the town has also protected a hiking area and many acres of habitat for birds and other wildlife. The well site is right in the middle of the reservation, which occupies the gently rolling outwash plain of central Falmouth, with none of the large rocks or rock walls so common on the moraine in North and West Falmouth. The area is well wooded with a second growth of oak and pine; early residents used the land for grazing and wood-cutting.
Park off Pinecrest Beach Drive. Head north on Sandwich Road, turn left onto Deepwood Drive and go 0.4 mile to grassy parking area on the left,  shortly after the dirt road with the gate and Town Well signage. (This dirt road leads to the water tower.)
Walk leaders: Alex Lancaster (508-540-4619) and Marcy Klattenberg
Walk at Peterson Farm, between Falmouth Village and Woods Hole
Monday, December 11, 10 AM to noon
The site of a 300-year-old farm, Peterson Farm is a fabulous place to explore a variety of trails that lead through open area, thickets, woods and moraine. The farm provides a rich variety of habitat for plants and wildlife and is wonderful at all times of the year.
Directions:  Going south on Wood Hole Road, 0.7 miles beyond the Locust Street bike path parking/crossing, turn right onto McCallum Drive. Take immediate right up the hill to Peterson Farm.
Walk leader:  Molly Cornell, 508-274-8843
Walk at Falmouth Rod & Gun Club, East Falmouth, off Carriage Shop Road
Sunday, December 31, 10 AM to noon
These protected 186 acres in Falmouth and Mashpee are managed for wildlife and environmental protection of natural resources. A major focus of the Rod & Gun Club is to promote responsible hunting practices. Club members are working hard on habitat restoration and have partnered with T3C and the Friends of the Mashpee National Wildlife Refuge (MNWR). Walking here is on mostly flat trails.  A special feature of this walk will be our friend, Mary Kay Fox, President of the Friends of the MNWR, who will talk about the 4 acres of monarch meadow recently created here.
Park at the kiosk on the dirt road next to the pond (on the north side of Carriage Shop Road, a short distance down the hill from the entrance to the Rod and Gun Club).
Walk leaders: Alex Lancaster (508-540-4619) and Marcy Klattenberg
And, a special ANNUAL EVENT…make sure to add this to your calendar!
35th Annual Cape Cod Lake & Pond Waterfowl Census
Saturday, December 2, 8:30 am – noon
Join "Team 300 Committee" … all ages and level of experience (or inexperience) are welcome! The only requirement is a sense of adventure. Our motto: If it quacks we'll count it.
T3C's section begins behind the West Falmouth Post Office.  From there we will carpool to several ponds in West and North Falmouth to count every loon, grebe, swan, goose, duck and merganser that we see.
Directions:  Meet in the parking lot behind the West Falmouth Post Office, just south of the intersection of Brick Kiln Rd, & 28A. Dress for the weather. Bring a snack & water, also binoculars and a scope if you have them.  Driving rain, sleet or blizzard conditions cancels.  Rain date Monday December 4th.  Questions?  Contact Molly Cornell 508-274-8843.
For other census teams on Saturday or Sunday, contact Charlie Cooper (978-771-8977).