T3C's enthusiastic and informative volunteer walk leaders are happy to get outdoors with you! See the variety of springtime walks we have coming up!
Weather Note: In the case of steady, pouring rain, walks will be cancelled. Otherwise, drizzle is often fine. Feel free to contact the walk leaders if in doubt.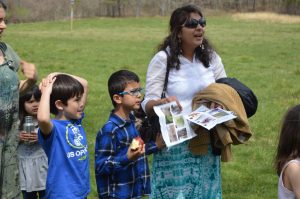 Family Passport Walk…SCHOOL VACATION ACTIVITY
Saturday, April 13, 1 to 3:00 PM
At Peterson Farm
Join T3C volunteers for a family hike around Peterson Farm. (Spoiler Alert: there might be new lambs!) Learn fun facts about the flora, fauna, trails and history of the farm, then set off an adventure with your new passport book. T3C's Passport to Falmouth Conservation Lands is a fun kids' guide with discovery activities for five conservation areas in Falmouth. Explore our woods, beaches, streams, and ponds. Get your booklet stamped, and receive an award when complete! (Walk Leader: Molly Cornell 508-274-8843)
Meet at the entrance to Peterson Farm. Take McCallum Drive off Woods Hole Road and turn right immediately onto the farm driveway, which leads up and then down to the parking area.
Young Birders Hike… SCHOOL VACATION ACTIVITY
Wednesday, April 17, 10-11:30 AM
In Beebe Woods
This is a great way to get the kids outside to enjoy the outdoors! We will explore the trails in Beebe Woods in search of birds. Leader Mike Tucker will talk about many aspects of birds, including migration, habitat and how our winged friends survive the elements. Children must be accompanied by an adult. (Walk Leader: Mike Tucker 401-481-7004)
Meet at the Hiker's Lot for Beebe Woods. Go up Depot Ave. to Highfield Drive and follow all the way to the right past the Cape Cod Conservatory, and into the large dirt parking lot.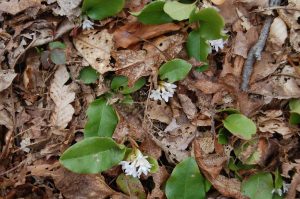 T3C-OPET Walk at Oyster Pond Conservation Lands
Sunday, May 5, 1 to 2:30 PM
The peepers are peeping in the vernal pools and the spring ephemeral flowers are blooming! Join us for a tour of the Oyster Pond Environmental Trust (OPET) conservation lands, nearly 30 acres of wetland, woodland and pond shoreline.   OPET purchased the Headwaters property with help from The 300 committee and many others to preserve this beautiful area and to protect the health and water quality of Oyster Pond.  The trails are steep and uneven in spots; please wear sturdy shoes with socks and long pants. There is some poison ivy and ticks, so cover up! Questions or more info email info@opet.org (Walk Leader: Wendi Buesseler)
Meet at the end of Fells Road (off Oyster Pond Road, up the hill from intersection with Surf Drive) where parking is available for Spohr Gardens.
Andrews Farm Spring Birding
Saturday, May 11, 8 to 11:00 AM
What an ideal time of year to explore this beautiful property! The varied habitats of open meadow, forest and pond front will be sure to produce a wide variety of species during this peak migration period.
Meet and park in the grassy area to the left of the farm stand at 394 Old Meeting House Road.  (Walk Leader: Mike Tucker 401-481-7004)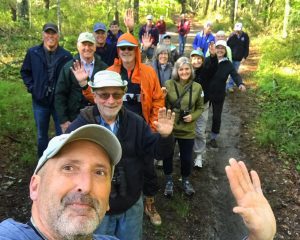 Migration Mondays, 7 to 9:00 AM
Back by popular demand! Start your day and week off right with Mike Tucker and friends on this series of Monday morning walks. It's an exciting time of year when many of our nesting birds are returning as well as many species passing through on their way north: possible sightings include warblers, vireos, thrushes, sparrows and more. Birders of all levels are welcome as we explore a variety of trails for the signs and sounds of our beautiful spring birds.  (Walk Leader: Mike Tucker 401-481-7004)
Dates and locations are:
April 29, Breivogel Ponds Conservation Area: Meet at the parking area at the entrance of the Town Compost Facility, on Blacksmith Shop Road about 1 mile north of Falmouth High School
May 6, Crane Wildlife Management Area South: Meet at the parking area on the north side of Hayway Road, toward the eastern end where Hayway meets Currier Road.
May 13, Peterson Farm: Meet at the farm entrance, up the driveway off the top of McCallum Drive, immediately to the right after turning off Woods Hole Road.
May 20, Goodwill Park/west side of Long Pond: Meet at the playground parking area. Entering from Gifford Street, follow Goodwill Park Drive all the way to the end.