Volunteer Mike Tucker has a variety of great activities lined up for fall.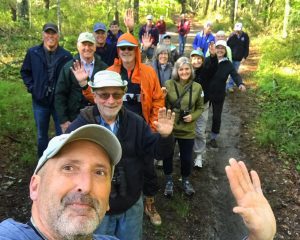 Migration Mondays , Fall Edition
September 23, September 30 and October 7, 7:00-8:30 am
Join us for three walks exploring conservation properties for Fall migrants.
September 23: at Frances A. Crane Wildlife Management Area on Hayway Road.
September 30: at Breivogel Ponds Conservation Area on Blacksmith Shop Road.
October 7: at Peterson Farm off McCallum Drive.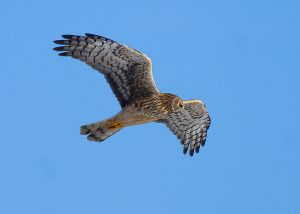 Hawk ID Workshop
Tuesday, September 24, 7:00-8:00 pm
at the Cultural Center, Falmouth Museums on the Green 
Fall hawk migration is just getting under way! This illustrated presentation is aimed at helping you identify the many species you can see this time of year. With an emphasis on identifying hawks in flight, the talk will cover physical and behavioral characteristics, including bird shape, proportions, wing posture, flapping and more. Seeing a hawk swooping quickly by you doesn't need to be chalked up as "just some sort of hawk" anymore. Come with your hawk questions!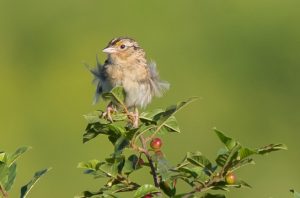 Fall Birding at Crane
Sunday, October 6, 9:00-11:00 am
We will explore the grasslands, meadows and woodland edge of Francis A. Crane Wildlife Management Area for a variety of migrants that this beautiful property supports. These habitats are ideal for many migrating sparrows, raptors and more. Grasshopper Sparrow, Blue Grosbeak and Eastern Meadowlark are some of the specialty birds that breed here and we hope to see this time of year.
We will meet in the large parking lot off route 151. The entrance by the ball field.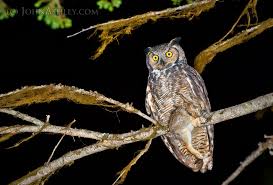 Evening Stroll in Beebe Woods
Wednesday, October 23, 5:30-7:00 pm
Many people in Falmouth have explored the beauty and varied terrain of Beebe Woods during the daytime, but this will be a rare opportunity to explore the woods at night! The silence of the woods in Fall might be interrupted by the call of an owl or the distant howl of a coyote. We will discuss nocturnal critters and will try calling in owls. Please dress warmly, wear appropriate shoes and bring a flashlight.
We will meet in the paved Beebe Woods parking lot between the Highfield Theater and the Cape Cod Conservatory.