About Beebe Woods
The elegant summer estate of the Beebe family in the center of Falmouth would be a housing tract today, not several hundred acres of town conservation land, if not for the vision and generosity of a Falmouth benefactor.
There were several schemes envisioned for the property once the last of the Beebe children, Frank Beebe, died in 1932. A health center, research laboratory, and a sanatorium were among the proposals. Finally, developers planned a 500-home subdivision that seemed certain to succeed. Just a few weeks before the sale became final in the fall of 1972, Josiah K. and Josephine Lilly purchased the estate and deeded 388 acres to the townspeople of Falmouth.
A century earlier, James Madison Beebe had bought the land on the outskirts of the small village of Falmouth. The Beebe family built two mansions on the property — Highfield Hall and Tanglewood — and created a network of bridle paths through the woods.
Tanglewood is gone, and Highfield Hall has been restored by a private, nonprofit preservation group. The bridle paths and other trails remain, and they are widely used by residents.
The woods lie across the top of the glacial moraine that stretches from Woods Hole to beyond the Cape Cod Canal. The hills were created some 15,000 to 18,000 years ago at the close of the last Ice Age. Evidence of the glacier's work is everywhere, from the huge boulders to the irregular shapes of the hills and the kettle holes.
Beebe Woods is easily accessed. Parking is available by the Cape Cod Conservatory at the end of Highfield Drive and on Ter Heun Drive, where there is a small unpaved parking area west of Gosnold on Cape Cod. Large format maps of Beebe Woods and Peterson Farm, which abuts the woods, are available at The 300 Committee office for $2 each.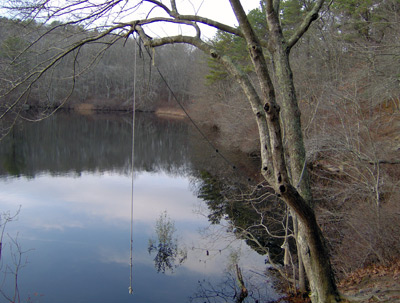 Rope swing at the Punch Bowl, Beebe Woods.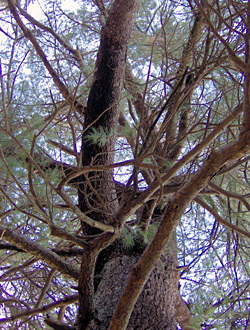 Massive pine at Beebe Woods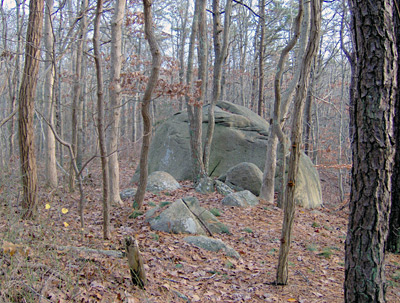 Beebe Woods boulders